DG Joinery & General Building was established in 1989 by David Bentley. The company began carrying out small joinery works and general building repairs using a solid client base David had established from his previous employment.
The need for his joinery and building services rapidly developed. After a few years of trading it was apparent the company needed to develop further. In 1992 the company completed its first domestic extension. From this point onwards domestic extension works has been the backbone of the company, taking on larger projects as the years went by.
In 2000 the company completed a small development of two three bedroom detached properties and since then has completed a further nine new build properties.
In 2004 Paul Bentley joined the company bringing with him a wealth of experience and contacts from his commercial construction background.
So whether it's a new build project, domestic extension (small or large), loft conversion works, a kitchen or bathroom refurbishment or a simple building repair, DG Joinery and General Building Contractors are the local company you can rely on.
Based in Newark Nottingham, we can carry out projects further afield in Nottingham, Lincoln, Grantham, Bingham, West Bridgford, Radcliffe On Trent, Southwell, Trent Valley and villages in between.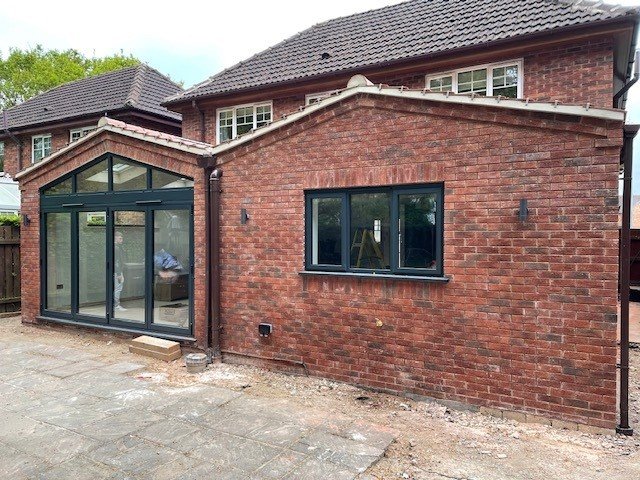 If your looking to get your project started then it couldn't be more simple. Simply get in touch with us on 01636 525465 and we can arrange for Paul to come and speak to you. There are just a few handy pieces of information that would help us make your dreams a reality. 
Ideas
Do you know what kind of finish and style you'd like to go for? Have you seen images on social media, in magazines or from friends and family that you might want to get inspiration from? 
Timescale
Knowing how long a project can go on can be a determining factor in what we can do. For example, you may want an extension completed for Christmas ready for the family coming over. This may not be possible when starting in September.
Budget
Budget shouldn't be a bad word. It's important for both parties that we can see the affordability of a project before we begin. We know from experience that understanding a project's cost is essential.
get to know each other
Our first visit can take anything from 30 minutes to 2 hours, depending on the project. We get to understand your requirements in detail to help us solve your problems.
Showing our understanding
After our consultation, we will prepare a plan to outline the project in detail along with a timescale. We make everything transparent so you get a clear understanding of the project from start to finish.
At the end of the day
Once the project comes near to it's end, we will snag the whole job from start to finish. This will be the smallest and largest aspects of the job, 'no stone goes unturned' as the saying goes.
We Will Help You Every Step Of The Way
Simply get in touch using our contact form, just click the link below
important things you should know
A long established Building and Joinery Company we pride ourselves on quality of work. Our communication with you the client makes the whole experience of carrying out the project effortless, painless and to leave you satisfied.
Should an issue or problem arise, no matter how trivial it may be, communication is key. Paul Bentley will be you main contact to discuss such issues or problems.
DG Joinery and General Building have Public and Product Liability Insurance to the value of £10million and Employers Liability Insurance for £5million.
Depending on the nature of the work being carried out you may have to advise your Insurance Company too.
Paul Bentley will be the main point of contact and project manager and will liaise with you every step of the way.
Our normal working week is Monday to Friday, 8am till 4pm, but not limited to as we understand issues may arise and we will work alternative hours to complete your project.
This will be discussed at our pre planning meeting once the full extent of work is known. Depending on the size and complexity of the work involved, it may be necessary to move out for a period of time.